Posted on 09/10/2019 10:30:57
by Richard Knight
Are Crowdfunding Platforms the ideal solution for Millennials to invest in property?
In a nutshell
As Property Crowdfunding surges in popularity, recent data suggests that the investors most likely to keep this momentum going are seemingly Millennials. So, why are the younger demographics investing more and more in Property Crowdfunding?
---
As Property Crowdfunding surges in popularity, some recent data suggests that the investors most likely to keep this momentum going are seemingly Millennials, or young adults between the ages of 18 and 35. According to research carried out by Shojin Property Partners, over a third of investors in the Property Crowdfunding sector is under 30 years of age.
Property Crowdfunding platform UOWN goes even further, stating that according to their data, over half the people that invest in Property Crowdfunding is aged between 18 and 30. In the same study, this compares to 25% of investors in the 31 to 45 age bracket, 15% of investors in the 46 to 60 age bracket, and 6% of investors in the over 60 bracket.
However, as these two sources show substantially different figures, surveys carried out by platforms cannot always be taken as definitive evidence of the statistics, especially since different platforms appeal to different age groups, therefore skewing their findings.
In addition, it should be added that at CrowdLords, our own data doesn't support these findings, but that is because our investments are designed for the more mature and more sophisticated investor. Nevertheless, we hope to be launching more suitable investments for younger investors in due course.
Whilst it would be logical to make the link between how difficult it is for young British adults to become homeowners, and Property Crowdfunding being an accessible way of becoming involved in property ownership, there are more factors to analyse.
Why do Millennials invest in Property Crowdfunding?
On some levels, Millennials have had it tough when compared to their baby-boomer parents. Since the financial crash a decade ago, jobs are scarcer than they once were, and while house prices have continuously risen, wage growth has not kept pace. For many here in the UK, the thought of buying a home is simply not within reach.
The Office of National Statistics recently released some data showing that the average salary in the UK is £29,009. In another study, again by the ONS, the average UK house price in 2019 is £229,431. With the most attractive mortgage deals available at the 20% deposit mark, it is easy to see that getting on the property ladder for most young people is a somewhat daunting and sadly unrealistic thought.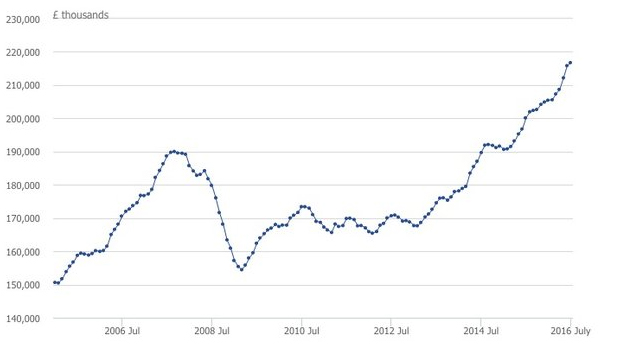 *Graph of UK house prices according to Office of National Statistics
There are even more astonishing pieces of data recently published by the National Housing Federation earlier this year, which makes for gloomy reading for young people looking to get on the property ladder;
The average age of first-time buyers is now 33, up from 30 in the year 2000
Home ownership levels are now at 64%, down from 71% in 2003
Only 37% of 25 – 34-year-olds are homeowners, down from 59% in 2004
1.5 million homeowners aged 85 and over, own more of the nation's housing wealth than everybody under 35
So, what does this have to do with Property Crowdfunding?
The most logical assumption is that Millennials see Property Crowdfunding as a viable way of getting into the property market. With equity-based investments in some Property Crowdfunding projects potentially offering returns over 15% p.a., it is a way for young people to increase their savings for a deposit in order to become first-time buyers, with the advantage that the funds earmarked for their deposit are likely to increase as the property market increases.
A generation of technologically astute investors?
More than any other generation in history, the age bracket of 18 – 35-year olds are more technologically savvy and comfortable using online platforms. As each generation arrives, more and more children grow up with smart phones, iPads, tablets, laptops, and a plethora of online devices all of which contribute to their technological acumen.
Directly related to this is the ease and speed with which you can become involved in Property Crowdfunding. Registering yourself, creating an account, browsing the platform of your choice for attractive projects to fund, and having as little as £100 of disposable income to spend on your card are all completely natural things to do for anyone who has grown up in the 1990s or 2000s, the whole process being completed in a matter of minutes.
This is a stark comparison to the 1980s when some of these Millennials were born. Investing in property 30 years ago was restricted to the affluent and privileged, with an entrance barrier of tens of thousands of pounds.
Do Millennials look at the bigger picture?
An interesting Morgan Stanley study showed that it is not just the prospect of getting on the property ladder and the ease of accessibility that young investors find appealing about Property Crowdfunding. The research indicates that it is specifically the millennial demographic that is attracted to the sustainability of long-term investments.
Millennials are twice as likely to invest in Property Crowdfunding projects which benefit a specific local area, or set social goals. Morgan Stanley state that:
"86% of millennial investors are 'very interested' in sustainable investing with social aims."
This isn't just restricted to developing single properties that are being funded, but may also mean contributing to the regeneration of a certain part of a town, restoring historical buildings or sites of cultural interest, or even developing and expanding playgrounds and green spaces within cities.
This ethical motivation from such a potentially large demographic could begin to influence more Property Crowdfunding platforms to re-shape their own objectives in order to bring more young people to the market.
What else can Property Crowdfunding platforms do to attract Millennials?
Aside from evolving technologically to suit the needs of their users, and offering new and interesting types of investment opportunities which possibly offer ethical, cultural or social benefits – something which Millennials evidently find important, what else can Property Crowdfunding platforms do to attract this ever-growing demographic?
Each platform offers their own slight nuances and will run their company in a slightly different way, although the crowdfunding principal remains the same. However, in general crowdfunding, there has been an emergence of secondary markets where you can cash out should you wish to exit the project.
Gradually, this is slowly being introduced into Property Crowdfunding too. This would be a largely popular evolution in the sector as property is illiquid, and cashing out can be difficult until the project reaches finalisation. Were secondary markets to be introduced, when funding a project, you could then sell your stake whenever you choose, granting you much more freedom in your investments.
Millennials – the future of Property Crowdfunding?
As we've seen, numerous Property Crowdfunding platforms are recognising that Millennials seemingly form the majority of their investors, a trend they also state is not decreasing. This surge of young people willing to risk their limited capital is telling, as it indicates that more and more of them genuinely see Property Crowdfunding as a viable way of investing money to make returns.
The more Property Crowdfunding platforms evolve their technology for the comfort of the users, as well as the broadening range of investment opportunities on offer, there is no reason to currently assume that the number of young people investing will decrease. Conversely, as platforms become more user-friendly, it would be imprudent not to assume that there may also be an increase in the number of investors aged 35 or over too.
In short, if you're a seasoned investor with a large portfolio investing thousands, or if you're new to the sector with little or no previous experience in Property Crowdfunding, the opportunity to involve yourself in developing property has really opened the door of Alternative Finance to a wide audience, and is making Property Crowdfunding one of the most attractive investment options available for young people today.